BRIGHT LIGHT MINISTRIES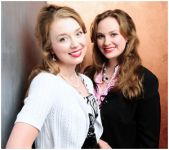 Stacie Ruth and Carrie Beth Stoelting are two sisters on a mission: to shine the bright light of Jesus to the world. As the founders of Bright Light Ministries, they believe that there is hope and salvation through Jesus Christ.
As recording artists, Stacie Ruth and Carrie Beth sing Christian, inspirational, and patriotic songs for audiences nationwide. The duo has recorded two albums, Heavenly and In God We Still Trust. They have sung for top leaders and they have appeared on FOX News, CBN News, American Family Radio, etc. Together, they infuse audiences with positive patriotism and faith in God.
On a deeper level, the girls have experienced many painful trials as well. For example, they witnessed a violent, fatal accident that forever changed their lives. They prayed with the victim - a wonderful husband and father - as he bled to death. The experience awakened the sisters to the urgent need of evangelism. It also provided them with new insight and greater appreciation for veterans (who experienced far worse on the battlefield). Stacie and Carrie has experienced pain. But they have also experienced the healing power of Jesus Christ.  
On this site, you can find ways to hope and cope in the face of crisis. Discover tips, articles, music, and tools to help and inspire you. And, check out Stacie and Carrie's blogs for fun and encouragement.  Learn more about Jesus' amazing love, mercy, and compassion today. Learn about Jesus here!